****This was not a paid post and my honest opinion was used. The opinions are solely my own and may vary from others.The products mentioned below have been provided by
eGardenStudio
for the review free of charge.****

I live in an apartment that has two large windows in the living room which should let in quite a bit of light but instead there is a large tree that mostly covers both windows so we don't get as much light as we should which makes keeping plants alive in my apartment impossible. I have finally come into possession of an easy to care for indoor plant that won't die on me, I was recently sent an Air Plant in a Bubble from eGardenStudio a wonderful plant shop on etsy.
This air plant comes in a small glass orb vase with a diameter of about 3 inches, and three little feet at the bottom. The orb vase fits right into my hand and sits perfectly on my computer desk, as a bonus the opening of the vase is about the size of my finger tip which means my cat can't get into the vase to eat my plant as he is known to do. This plant is very low maintenance you simply need to spray it 1-2 times a week making sure there is no excess water hanging out in the vase, I have been turning mine upside down on a paper towel for a few minutes to make sure all the extra water if there is any drains out. It requires bright, indirect light, no direct sun is recommended. You can put them near a window at home, or put them in your office, since fluorescent office lighting also works well for them. Both the light watering and indirect light make this plant a perfect gift for someone who doesn't get a lot of light in their home or for an office to spruce it up a little. Looks wise I think this vase and small air plant are adorable it adds a little bit of nature into what ever space you place it in. The exact model I received retails for $16 plus shipping.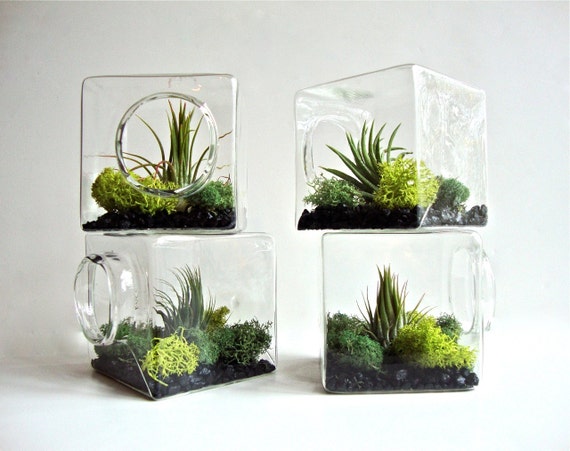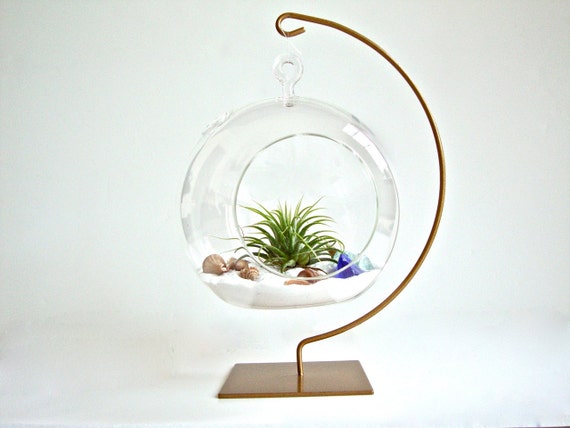 Shipping wise the package arrived fast and was securely packaged to keep the glass and plant from being ruined during shipping, since there was no dirt or rocks in the vase I didn't have to worry about there being loose soil/dirt in the box. eGardenStudio ships world wide, depending on where you live and how your postal service is it may take a few weeks to receive your plant in you are outside of the US. After taking care of this plant for the last two weeks and seeing that it is still healthy and very much alive I would 100% purchase more plants from eGardenStudio not only for my home but for my work desk and friends as well. All the prices are very reasonable and range depending on the plant,vase size and any extras that may come with it. Customer service is wonderful and they are always friendly. Want to check out everything they have to offer including their color moss? Head over to their
shop
to view what they have in stock.