****This was not a paid post and my honest opinion was used. The opinions are solely my own and may vary from others.The products mentioned below have been provided by
Wee Gallery
for the review free of charge.****

My son is turning one in eight days, Every day he is learning more and talking more he learns a lot from his older sister. When his sister was younger we had quite a few sets of flash cards which were ruined over time so when I received the chance to review a set of Jungle art cards for baby by Wee Gallery I was extremely excited. The Jungle set includes a bear, lion, monkey, parrot, snake and zebra each card is printed on recycled board and measures 5"x7" the cards are a nice thickness as well.
My package arrived within four days from the other side of the United States & was well packaged. These cards are simply adorable even the box they come in is something you will want to hold onto not just to keep the cards in but because of the artwork. All the cards are thick which will allow your child to play with these cards without them getting ruined, the corners are round to prevent any poked eyes or jabbed cheeks. One side of the card is white with the animal drawn in black and the other side is black with the animal drawn in white along with the animals name. My son loves these cards he started giggling as soon as they were pulled out, He loves playing with and looking at these cards the contrast is wonderful and we all love the way the animals are drawn. Wee Gallery also offers a Sea Life set that includes a sea animals, sea horse, fish, turtle, jellyfish, stingray and octopus.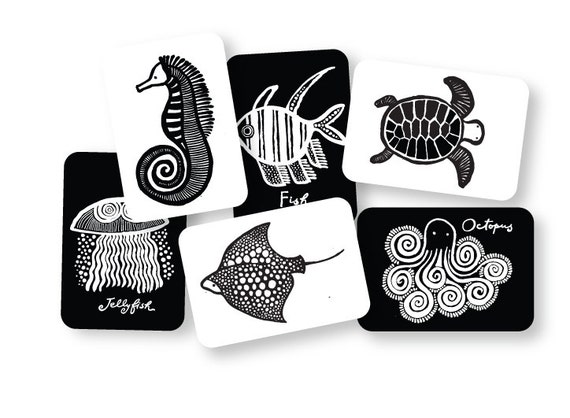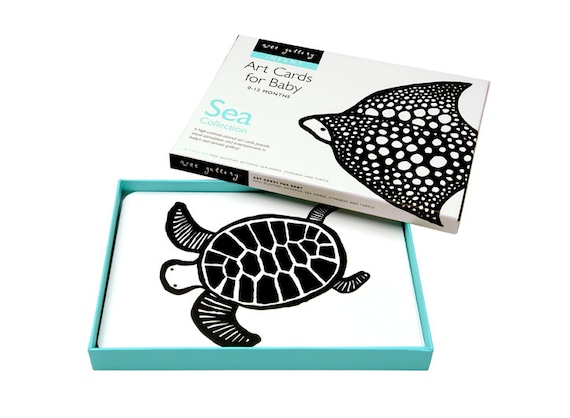 Wee Gallery also sells temporary tattoos, tea cups, toys & rubber stamps. Want to know how Wee Gallery came about? Here is some information from their "About Us" section, "Wee Gallery was conceived by Surya, a graphic designer, and Dave, a teacher. To prepare for the birth of their first child, Surya painted a mural on the baby's nursery wall. Remembering that newborns responded to black and white best, she decided to paint zebras so that the baby could focus on the black and white stripes at first, and as he grew older, would be able to recognize the form of the animal .Well, their son Siddu loved his zebra wall, and so did all the moms and dads who came to visit! So they decided to create more animals using the same idea, and the first set of Wee Gallery Art Cards for Baby was born. Seven years later Wee Gallery products are sold in baby boutiques and design shops all over the world." Head over to their etsy shop to see everything they have to offer I personally love their designs and will keep this on my "Baby Shower" gifting list for when I am invited to a baby shower again.