****This was not a paid post and my honest opinion was used. The opinions are solely my own and may vary from others.The products mentioned below have been provided by
Super Sexy Nail Art
for the review & giveaway free of charge.****

When I get the chance I love having my nails done, Now that I no longer bite them they look healthier and have grown to a nice length. My only issue is that I am horrible when it comes to designing my own nails, one maybe two colors is the extent of my nail art experience. The easiest way for me to get cute nails without messing anything up is with nail decals & I have found my new favorite nail decal store called Super Sexy Nail Art on etsy.
Super Sexy Nail Art has a few hundred nail decals in their store that range from Mickey Mouse ears to Loki decals some are smaller sized decals and others are full nail decals. I recently received three sets of nail decals for review two sets of pentagram decals which I will be using for a spooky Halloween look later this year and a Wonder Woman full nail set. My package arrived in a speedy manner and was well packaged into separate baggies, Every set of decals comes with a clear and easy to follow set of directions. I found the process to be quite fast, simple and fun. Each decal takes less than one minute to apply, to get the decal off of the paper you simply need to let it sit in a bowl of water for 10-30 seconds then you will be able to apply it to your nail.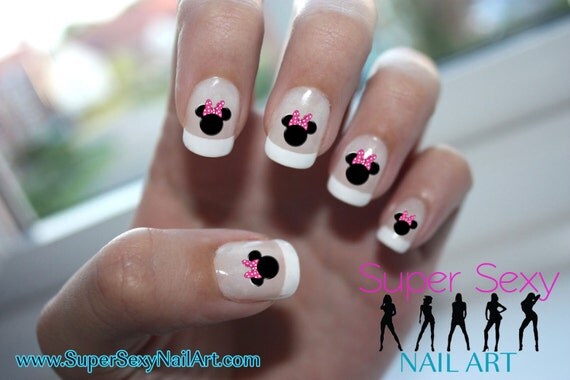 I personally love these decals they apply smooth and look great, Depending on the decal you purchase they look best with light colored nail polish or even no nail polish. Once the decal is securely on your nail it won't go anywhere until you remove it with nail polish remover, this is a huge plus as I do a lot with my hands both at home and at work I don't want to have to worry about my nails and these take my mind off of that. I am apparently horrible at cutting out designs without almost cutting the one next to it so I would suggest using a small pair of scissors suck as the kind that come in nail care kits or brow care kits. The smaller decals are $2.45 for a single sheet and the full nail decals are $4.99 which I think is a wonderful price considering how many of the decals come on a sheet. The shop owner is sweet,friendly and fast at responding to questions about the products in her shop.
PRIZE ALERT:
One lucky winner will receive ALL of the My Little Pony Decals you see in the image above that is nine sheets of decals.
a Rafflecopter giveaway