****This was not a paid post and my honest opinion was used. The opinions are solely my own and may vary from others.The products mentioned below have been provided by
Super Nails
for the review & giveaway free of charge.****

I love video games, comics and watching movies one of my all time favorites as many of you know is Batman. When I found some comic inspired nail polish by Super Nails on etsy I couldn't pass them up. KC the owner of Super Nails has allowed me to do a review & giveaway of her Comic inspired polishes, she also has a large selection of non comic book polishes for ever season. For my review I received the following polishes: Harley Quinn, Poison Ivy, Wonder Woman, and Loki I was sent the Mini bottles. All Super Nails polishes are 5-FREE, vegan, and free of formaldehyde, toluene, dibutyl phthalate (DBP), formaldehyde-resin, camphor, and carmine.
Customer service is A+ the owner is friendly, speedy at replies and talented when it comes to creating beautiful polishes. The polish arrived wrapped in bubble wrap to prevent damage during shipping, It also came with a Thank you note which included a helpful tip to "Dab" the polish on verses brushing it on. Each polish is quite unique here is a description of each; Harley Quinn: Clear polish base with black and red diamonds and glitters. Poison Ivy: Clear polish base with dense tiny holographic green for her skin, larger green hexes for leaves and red hexes for Poison Ivy's hair. Wonder Woman: Clear polish base with gold, red and blue hex glitters and white stars, just like Wonder Woman's uniform! & Loki: Clear polish with dark matte green, metallic gold and black glitters to capture Loki's theme colors.
My personal favorite is the Poison Ivy, It suits the character perfectly I love that it has the larger green hexes for the leaves and the red speckles for her hair. I actually received a few compliments on this polish within the first few hours of wearing it, I plan on wearing it quite often and will need to buy a larger bottle soon. My second favorite is the Loki the colors mix well and I enjoy how it looks, I plan to use it over a base coat of green and black. The Harley Quinn & Wonder Woman are tied when it comes to how much I like the both of them I enjoy the Diamond and Star glitter that was in each container, how ever I wish there we a few more stars in my wonder woman bottle I couldn't for the life of me get the stars to come out of the bottle it was the only one I had an issue with. The polish applies nicely I am a little sloppy when it comes to painting my right hand but any spots that ended up on the skin were easy to clean, the polish dried fast and looked great. I applied two clear coats to keep the glitter protected, If you have read any of my polish reviews you will know that I LOVE glitter polish. The only thing I don't like with some glitter polishes is how much the glitter sticks out from the nail and leaves it feeling sandy, I didn't have that issue with the Super Nail polish I received everything laid flat and smooth. It is no lie that all polishes have a small to them sometimes when using a heavily harsh scents polish my fiance will have me go to the other side of the room as it makes his head hurt, these polishes have a light scent and can't be detected unless you place the polish right under your nose. I plan on buying a larg size version of the Poison Ivy polish and will be checking out some of her other polishes as well. Mini Polishes are $3.99 a bottle and Full sized bottles are $7.99, The Mini bottles are great for testing out each polish but if you find one you know you will be using often I suggest going for the full sized bottle. Super Nails sells Internationally so anyone is free to pick up a bottle or two.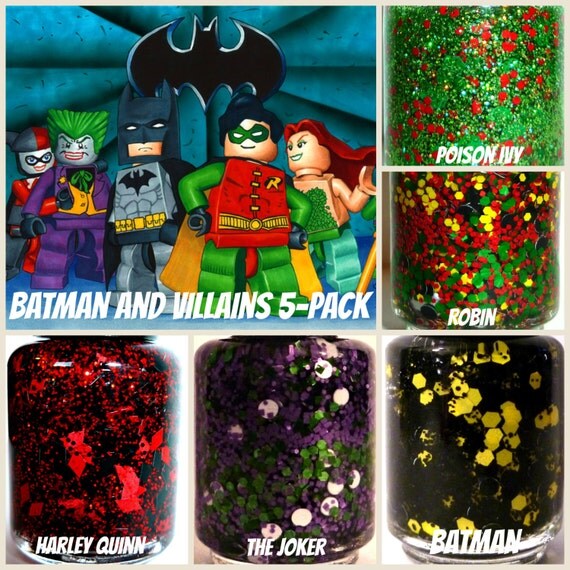 Prize Alert:
One Lucky reader is going to win a set of 5 Mini Batman & Villains which includes: Batman, Poison Ivy, The Joker, Robin & Harley Quinn Retail Value: $17.95.
This Giveaway is open to US Readers, How ever if you are International you can enter but would need to pay the shipping charges.
a Rafflecopter giveaway