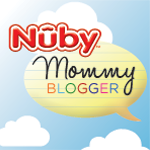 My son is growing up faster than I could have imagined, He is only five months old but he has never been in that "Newborn/Infant" stage. The first week of his life he was a sweet innocent infant then about a week after we arrived home everything changed he wanted to be independent. He has been growing fast both with height & weight he is also ahead of the game when it comes to getting around all over the living room,lifting himself up,standing & more which he has been doing since he was about three months old.
One of the things he Loves to do is eat, He loves trying new foods & will try to steal any food that you yourself are trying to eat. I am excited to share my experience with Feeding Spoons by
Nuby
. You might be thinking, "What's the big deal? All baby spoons are the same" that is where you would be wrong my friend. When my daughter was a baby I always hated her baby spoons they were too short & I disliked that the spoon itself was plastic covered but the handle was metal. The Feeding spoons are perfect they are long & all plastic, Each package comes in an assortment of colors. I am an odd ball but sometimes I like pairing the color of the spoon to the food that my son will be eating for that meal.
The spoons are easy for both myself & my son to hold onto, I enjoy the amount of food that can be held by this spoon because it creates the perfect bite for my son. This set of baby feeding spoons can be purchased at www.buybabydirect.com,Amazon,TJ Maxx,Tuesday Morning, & www.idealbaby.com ****This was not a paid post and my honest opinion was used. The opinions are solely my own and may vary from others.Products were Provided by
Nuby
for the Review free of charge****