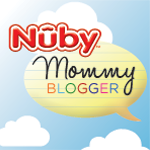 I am excited to be able to start buying my son toys he is now fully aware of his surroundings & stays awake longer during the day. Being a
Nuby
Mommy Blogger means I am able to review their wonderful toys & baby products with my son. My son is currently nine weeks old & being more active everyday so I have been looking around for age appropriate toys. I was recently sent a toy called the
Funshine Mirror Toy
which is perfect for ages 0+.
Here is the description from the Nuby website "This musical Funshine toy by Nûby is another innovative toy that combines exercises for young hands while providing visual and musical stimulation for your baby. By simply pressing the sun's textured nose, the character lights up and sings "You are My Sunshine." On the reverse, a mirror provides additional visual stimulation for your baby."
My son loves this toy,it helps keep him calm and happy while on long car rides. When you press the nose the two small lights on the cheeks start to flash while "You are My Sunshine plays,I like that the lights aren't bright enough to hurt his eyes. The bright colors of the sun shaped toy keeps his attention even when the sound & lights are off,the Mirror on the back makes the toy triple the fun. Once my son starts teething he will be able to chew on the "rays" on the sun if he chooses & I won't have to worry about one popping off because this is a very sturdy toy. The sun comes with a ribbon attached to a hook making it easy to hook onto the stroller,or car seat. The Funshine Mirror Toy can be purchased at Babies R US,Khols or Diapers.com. This is a toy I would highly suggest for anyone who has a infant looking for a reliable & stimulating toy,I wish I had this when my daughter was younger.
**** I am a Nuby Mommy Blogger & This is not a paid post,my honest opinion was used on the product I was sent to review. The opinions are solely my own and may vary from others.Products were Provided by
Nuby
for the Review free of charge****