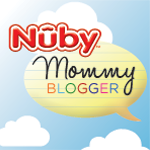 I am very excited to announce that I am an official
Nuby
Mommy Blogger! Which means I will be receiving some of the wonderful products Nuby has to offer your little bundle of joy for product reviews along with being able to hold some fantastic giveaway. The first item up for discussion is the
Non-Drip™ 3-Stage Grow Nurser
, What features does this Nurser offer? This nurser is for ages 0+,offers a wide bottle neck & holds 12oz/360ml.
My son is only two months old as of Wednesday so he won't be at the sippy cup stage for a while longer,but at one point in time all parents wonder how their children will handle the transfer from a bottle to a sippy cup. Browsing through the Nuby website I found a simple solution I think will help aid children during the transfering stage to sippy cups, The Non-Drip™ 3-Stage Grow Nurser is perfect for the job. The Non-Drip™ 3-Stage Grow Nurser can be used from the time your child is born until they are a toddler, How you might ask? The Grow Nurser starts as a bottle with the patented variable flow Non-Drip™ Nipple which features anti-colic valves to reduce the risk of colic as well as teething nubs to massage baby's gums which helps keep them calm during tough times. As your baby begins to grow & starts to hold their own bottle the Grow Nurser allows you to attach the easy grip handles so they can start to feed themselves. The final stage in the Grow Nurser is a soft, silicone No-Spill™ Spout which will replace the Non-Drip nurser nipple.
Testing this product I have found that it allows my son to choose the nipple flow he enjoys,When he is going through a feeding frenzy he prefers to have a faster flow vs a slow relaxing while eating flow. Playing with the handles & spout I find that it is very simple to 'upgrade' to the next stage,We are not quite at stage two but I enjoy keeping the easy grip handles on the Grow Nurser because it helps me have a better grasp on the bottle while feeding my son. As he grows he will become familiar with the look & feel on his Grow Nurser which will make the switch to the spout easy he won't have any issues with knowing it is his cup. I didn't have a huge issue with my daughter during the transfer stage & I am hoping I won't have them with my son either.You could tell she knew she was using a different style of cup & enjoyed it but would also fuss for her bottle still this would have been perfect during that time as well. Did I find any negatives with this nurser? I have found that the nipple has a slight dome shape [shown above] on the inside of the nipple tip which causes milk to become caught,This can be difficult to clean if you have a regular bottle brush I would suggest using a small straw brush to properly clean the nipples on this nurser. This product can be purchased at Walmart,Diapers.com,Amazon,Cookiekids.com & other great retailers.
****This was not a paid post and my honest opinion was used. The opinions are solely my own and may vary from others.Products were Provided by
Nuby
for the Review free of charge****