One of my favorite things to do when I am stressed out or feeling sore is to take a Nice long hot bath either with a bath bomb or
bath salts
depending on my mood. I recently had the opportunity to work with a company called the
San Francisco Bath Salt Company
who sent me one of their Sleep Lavender Bath Salts along with a small sample sized bath salt. What is the benefit of their Lavender bath salts? It is a therapeutic bath salt for relaxation and promoting a good night's sleep,It also soothes muscle aches and pains.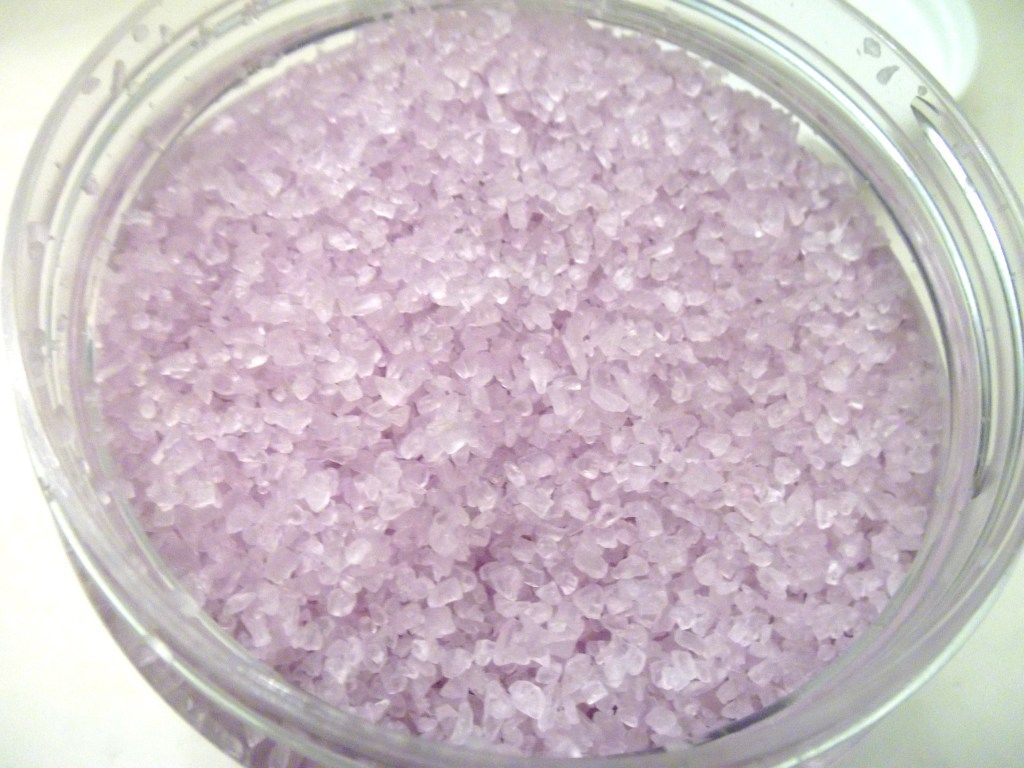 I spend anywhere from 5-9 hours a day on my feet when I am at my day job so the day this arrived I was ready to jump in the bath & test it out. The packaged arrived fast & came with a little sample bath salt of another scent which I found to be thoughtful & a great way to gain returning customers. The product itself has a nice purple tint to it which can be seen above,& It has a wonderful smell that fills the bathroom when I use it.So far I have only tried a little handful at a time which helps me relax after a hard day but I would also like to try their Therapy Bath & Shower Salt suggestions they have on their website,To achieve the Shower salt you Take a small handful and massage gently onto wet skin to exfoliate your skin. Or, sprinkle a small amount onto the shower floor to cleanse your feet while making your bathroom smell wonderful & that is saying something because I normally do not like the smell of Lavender. Putting on the shower floor sounds wonderful to me! If the man in your life is anything like my Husband he refuses to use girly scented bath salts but the
San Francisco Bath Salt Company
has a solution for that they carry a selection for men & a selection of children's bath salts so they have something for everyone & salts to help with various pains,skin issues,ect. I have enjoyed working with this company their bath salts are both useful & effective I plan on heading back to their store to try other scents once my Lavender bath salt is gone. Their customer service is friendly,Speedy with replies & their shipping is fast over all a great company with even better products! ****This was not a paid post and my honest opinion was used. The opinions are solely my own and may vary from others.Products were Provided by
San Francisco Bath Salt Company
for the Review & Giveaway free of charge****
PRIZE ALERT:
One lucky winner will receive a 16oz jar of Sleep Lavender Bath Salt.
I AM SORRY BUT THIS GIVEAWAY IS FOR USA RESIDENTS ONLY.
HOW TO WIN/RULES:
To be eligible for this giveaway contest you MUST do the MANDATORY entry below. You only need 1 Mandatory entry to enter, but you could also have Additional entries to maximize your chances.Please remember to leave your email in your mandatory entry so that I am able to contact you if you win.You do not have to be a blog follower to enter this giveaway but I would love if you would become one it will help you keep updated on All of my giveaways
a Rafflecopter giveaway