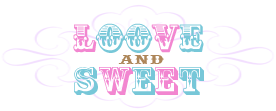 Since I did a Beauty themed set of posts yesterday I wanted to do a 'Sweets' Theme today. I have a bit of blog posts to catch up on so I will be posting quite a bit over the next week. Today's first review & giveaway I wanted to share with you is from a cute little company called
Loove and Sweet
who makes an assortment of hair accessories,Earrings & more.
For my review I received a cute collection of Hair bows, I thought they were all cute & well made.I liked the small assortment she sent because it showed the wide range of Hair bow styles she makes.She uses a wide range of Materials in her products some of which include: Felt,Ribbon,Fabric & more. Both my daughter & myself have worn these hair bows they are safe to use on babies because they do not get caught in the hair & it doesn't sit on your head in an awkward position. I have received many compliments on these hair bows & I am proud my daughter is the owner of them they are some of her favorites in her hair clip collection. If you have a toddler or younger girl that your not sure what to buy for Christmas head over & check out the
Loove and Sweet
website to see everything she has to offer you. Want to know a little about the maker? Here is some information from her website: "Her name is Marian,She graduated from Emily Carr University of Art and Design in 2008 & Everything begin with her loovely baby. She was born in the summer of 2010 with lots of hair, and this is how Marian started making all the accessories and decided to open this online shop in September 2011."
Loove and Swee
t has fast shipping [From Canada],Very professional packaging & great quality items.****This was not a paid post and my honest opinion was used. The opinions are solely my own and may vary from others.Products were Provided by
Loove and Sweet
for the Review & Giveaway free of charge****
PRIZE ALERT:
One Lucky winner will get to choose One item from the
Loove & Sweet
website [*free item must be $15 equal or less value]
GIVEAWAY IS NOW OVER WINNER IS - #240 Valerie