If you are having a hard time deciding on a present for a loved one, Christmas Gift Baskets could make an amazing & thoughtful gift a Great website called
DoodleBuckets
has a very nice & wonderful selection of gift baskets for all occasions. I was recently sent a Holiday Celebrations Holiday Gift Basket - Small it arrived fast & everything was in perfect condition nothing smashed or melted.What was in my basket? 2 oz. White Cheddar Popcorn,4 oz. Holiday Butter Toffee Pretzels,A cookie,Two samples of fudge,3 oz. Summer Sausage,1.35 oz. Grained Mustard,1/2 oz. Stone Wheat Crackers,Happy Holidays Theme Bag w/Starlite Mints,Cheese Wedge,Chocolate Cream Filled Wafer Cookies.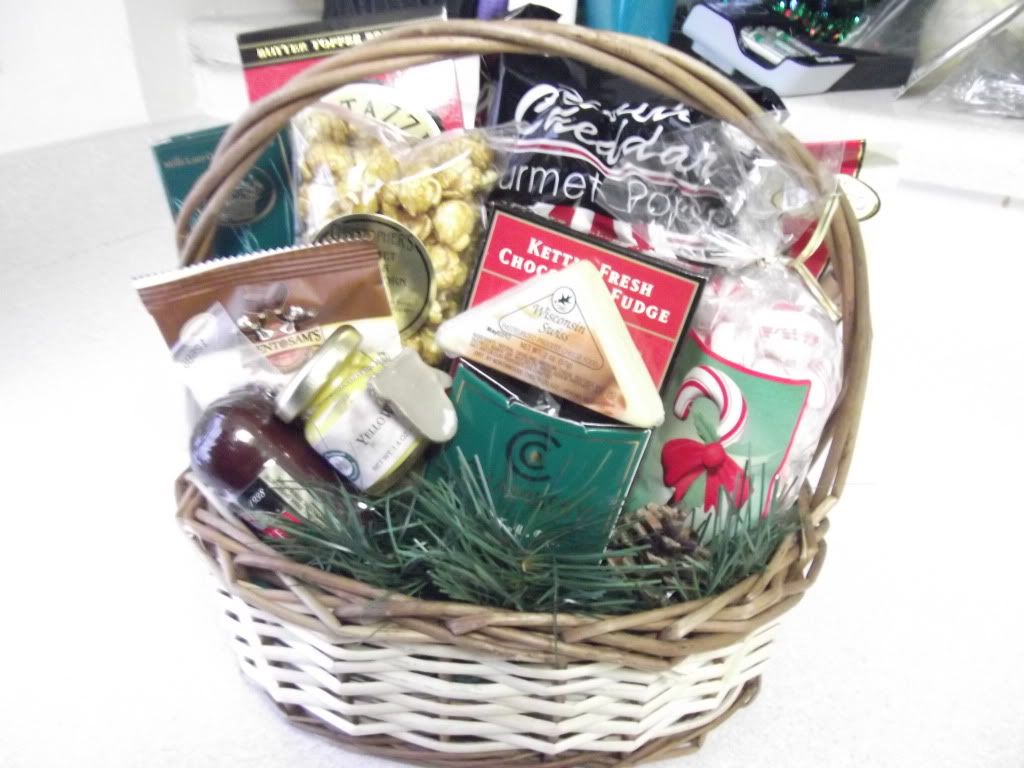 One of the best memories I have of Christmas when I was a kid was every year my father got a box filled with Crackers,Summer Sausage & Cheese that he would share with my brother & myself. My Fiances grandfather received & did the same thing so we were both happy to test out the summer sausage & cheese included in this kit. I was a little disappointed with the crackers so I used my own at home,the sausage & cheese were quite tasteful at first my fiance didn't want to try the cheese because he said it 'Looks gross' but upon smelling it & myself making him try it he ended up loving it. We all enjoyed the products in this basket we all had a small sample of each we did notice that this specific gift basket is better suited for someone who is single as the portions are perfect for one person,as a family each person would only get a small piece of some of the items.Everything was in its own packaging & fit into the basket perfectly this basket would make a fantastic presents & you can reuse the basket for something else like I am doing.My favorite item from this pack were the Chocolate cream filled wafer cookies they were very tasty. My daughter,fiance & I enjoyed testing out this basket. I would strongly recommend checking out their website for great Holiday gifts.Shipping was fast,Customer service is friendly & their packing is very professional.Along with
Christmas Gift Baskets
they also offer Gift baskets for other occasions & Baby Gifts that are worth checking into.****This was not a paid post and my honest opinion was used. The opinions are solely my own and may vary from others.Products were Provided by
DoodleBuckets
for the Review & Giveaway free of charge****
PRIZE ALERT:
One lucky winner will get to choose their own gift basket of choice [$50 or Under]
I AM SORRY BUT THIS GIVEAWAY IS FOR US RESIDENTS ONLY.
GIVEAWAY HAS NOW ENDED WINNER IS
#128 Grandmaofmany