I am always on the look out for toys that aren't your 'Ordinary' toy so when I came across a toy called
Vamplets
I fell in love.If Vamplets would have been around when I was a child I would have wanted to own the whole collection.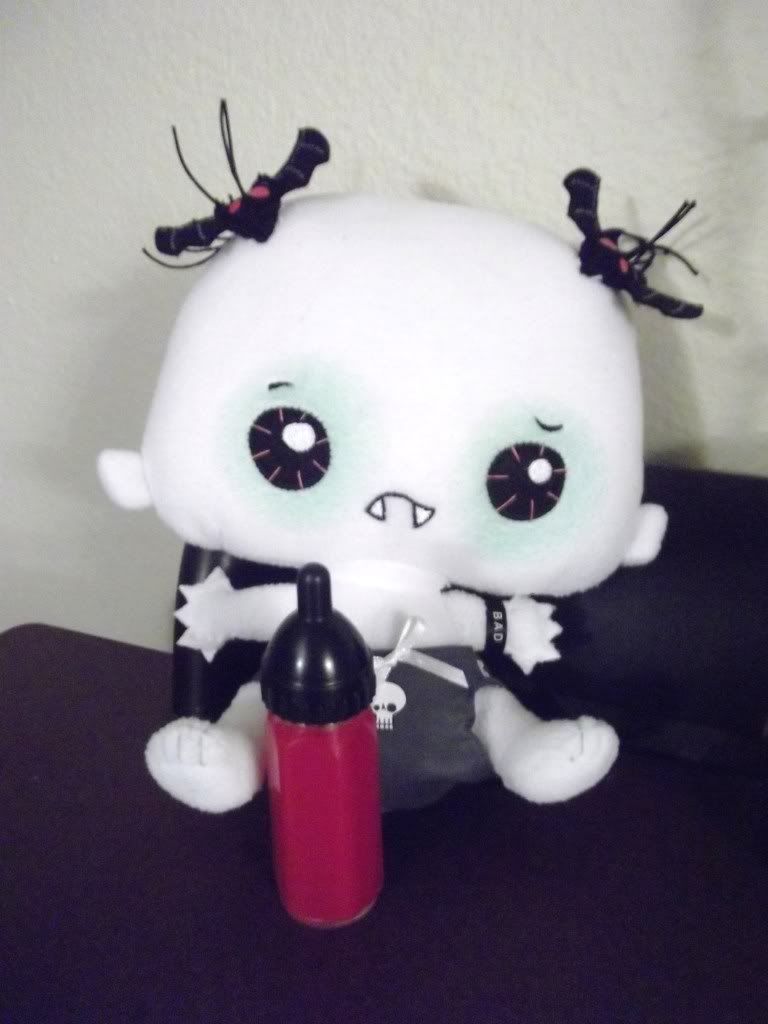 A
Vamplet
is a small Stuffed Vampire baby doll each are adorable in their own way for my review I received is named Count Vlad Von Gloom.Here is a description of the Vamplets from their website "Are you brave enough to become the parent of a vampire baby, like Bella and Edward in Twilight: Breaking Dawn? We are looking for suitable human parents who would DARE to adopt one of our precious
Vamplets
! Our "human-friendly" shop is located here at shop.vamplets.com ready for you to browse (with caution) and become familiar with all the Undead creatures that dwell in this delightfully frightful world. If you think you have what it takes to care for your own immortal infant (and show the Cullens how it's done) then we encourage you to explore the Realm of Gloomvania at
www.vamplets.com
! You can stop by the Town Hall and print your Vamplet's Undead Certificate, then head to the Nursery where you can MEET each of the
Vamplets
up-close!"
Each baby Vamplet arrives in a Small coffin box along with a Thank you note with a free Pin. I think that this baby vampire is beyond adorable,I also received a Disappearing Bottle of Blood "If your vamplet gets hungry, you'll want the
Vamplets
Disappearing Bottle of Blood to settle her tummy. Filled with red "blood" and capped with a black baby bottle nipple, this mysterious snack disappears as you feed it to your Vamplet! When it's tipped back upright, the "blood" returns." I think both the baby bottle & vamplet would make a great gift for a child who likes things out of the Ordinary I know many rocker mamas who love this product & plan on looking into it more for the Holidays. The Vamplets are well constructed I have looked this doll over & think that everything is well put together,well thought out & over all a great product. Along with Count Vlad Von Gloom there are Five other vamplets to adopt. Each vamplet cost $19.95 which I think is a great price for these fantastic babies These
vamplets
aren't just for Kids they are also for geeky adults! This site is worth checking out for the Holidays. I also wanted everyone to know they are having a Large giveaway on their
facebook page
they are giving away Lots of little Vamplets to new loving homes head over to check out their Giveaway on
facebook
.****This was not a paid post and my honest opinion was used. The opinions are solely my own and may vary from others.Products were Provided by
Vamplets
for the Review free of charge****