Ready for a fun new giveaway? This giveaway is fun for both kids & adults & you are about to find out why. I recently did a review for a company called
Plasmacar
"One of the world's best-selling children's ride-on-toys, the
PlasmaCar
's unique and award-winning design requires no batteries, pedals, gears, or electrical parts to propel the car; you simply turn the steering wheel, and away you go! The
PlasmaCar
harnesses the natural forces of inertia, centrifugal force and friction."
Now I have to admit that I did have a hard time with the Steering wheel,The bolt got stuck & wouldn't move to tighten or loosen but I was able to get it back off to fix it.My Fiance couldn't quite grasp how the
plasmacar
was supposed to work,Showing him how it worked was quite fun my daughter & I both comfortably sit on the car.All you have to do to get the car moving is turn the steering wheel back & forth while slightly leaning forward.I haven't been able to take this to a park yet because I have been working a lot but I am looking forward to playing with it with my daughter,I think I may have a little more fun playing with this than my daughter it makes me feel like a big kid again.Not only does my daughter enjoy riding it by I like riding it myself & my fiance has tried it out as well.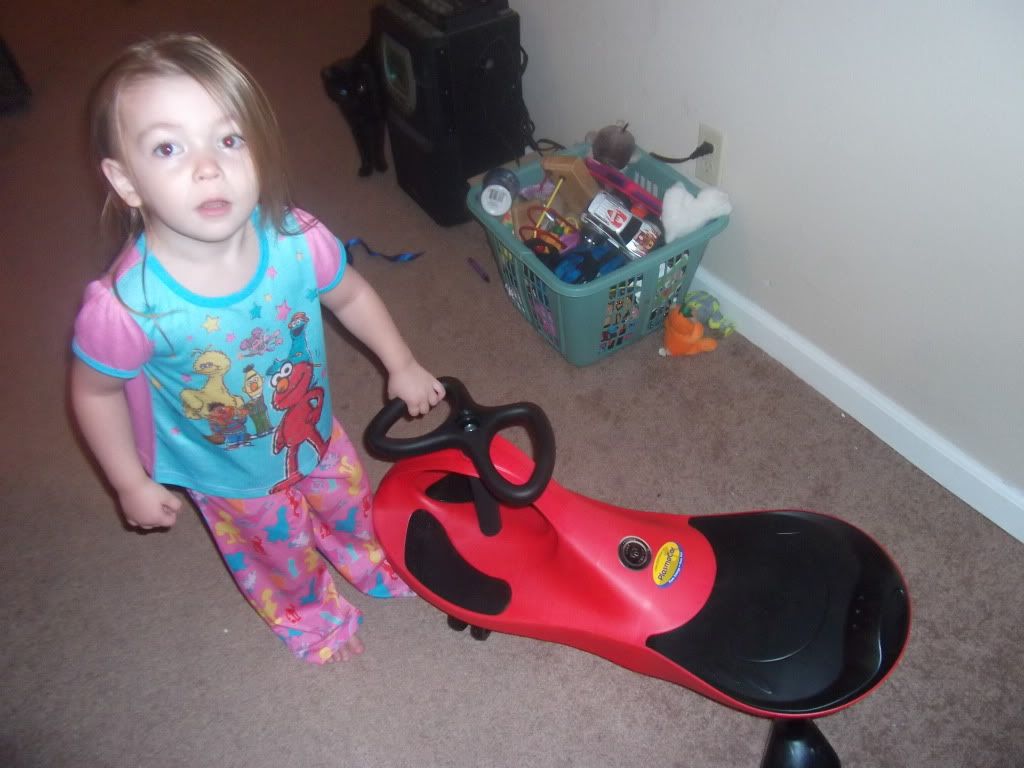 We have used this everyday since we got it,Its fun to ride it around the house on the Tile & Wood.The
Plasmacar
can go forward or backwards depending on where you would like to go.I personally think that it is comfortable to sit on & is easy to use.My favorite thing about the
Plasmacar
is that it doesn't need a battery,you simply use your own strength.Over all I am very satisfied with this product it brings my daughter & myself entertainment,The
Plasmacar
is easy to transport & store when not in use.The photo above shows my daughter with the red
Plasmacar
it took me a while to get her to take a photo.****This was not a paid post and my honest opinion was used. The opinions are solely my own and may vary from others.Products were Provided by
Plasmacar
for the Review & Giveaway free of charge****
PRIZE ALERT:
One lucky winner will receive a
Plasmacar
of their own.
SORRY BUT THIS GIVEAWAY IS USA & CANADA RESIDENTS ONLY
GIVEAWAY HAS NOW ENDED WINNER IS #14 nicolthepickle