Starting off Todays post I wanted to let you know on Saturday I will be announcing a big list of New giveaway winners! I also have a ton of fun giveaways & reviews headed your way including todays not one but Two giveaways I hope you enjoy them both.I love being able to host giveaways & read your feedback specially when a giveaway winner contacts me to let me know how much they loved the giveaway item.It has been a rough summer so I haven't been able to Personally host a giveaway put together by me since December of 2010 so I have put together a 'Lunar Prize Pack Giveaway' ONE Lucky winner will receive a Small Flat rate package full of Full sized & Sample size items some of which I quite love myself.All items are Brand new & Unused,All giveaway items are being provided by me & shipping to the winner will be paid for by me.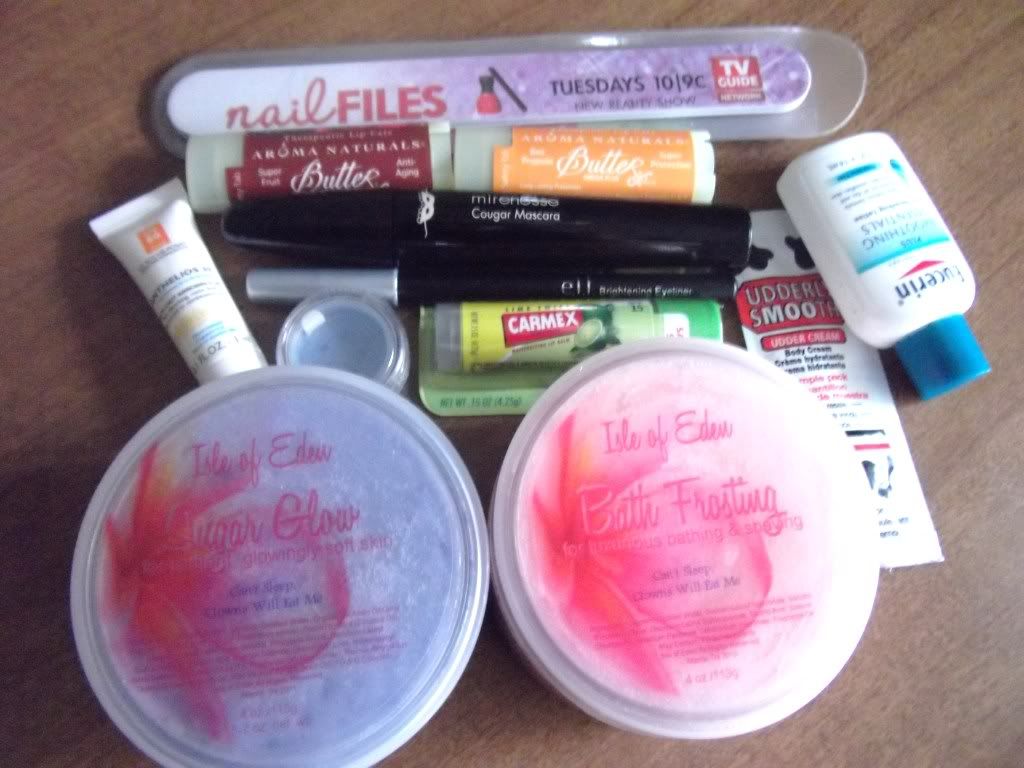 All of the items in this 'Lunar Prize Pack Giveaway' are items I enjoy using myself & Trust that you would like using them as well,All items with a Star ( * ) in front of them are Items I Love using & use on a regular basis.All of these items are Perfect for summer & Winter,I wanted to put together a Nice Beauty prize pack to help keep you looking Fabulous,From Head to Toe.It may not look like a big prize pack but there are a lot of great items included in this Prize pack.
PRIZE ALERT:
This prize pack includes the following items,All items are New & Unused.
*Isle of Eden Bath frosting [4oz jar] in scent "Can't sleep clowns will eat me"
*Isle of Eden Sugar Glow [4oz jar] in scent "Can't sleep clowns will eat me"
*Mirenesse cougar mascara in Black
*Orglamix loose mineral eye shadow in color 'Spring Water'
Eucerin Smoothing Essentials lotion bottle [0.5oz]
Aroma Naturals aromatic mist in scent Ambiance [2 oz glass bottle]
Aroma Naturals Theraputic Lip Care Lip Balm in flavor Pom Berry
Aroma Naturals Theraputic Lip Care Lip Balm in Flavor Orange Honeymint
*Udderly Smooth Lotion sample
*Carmex Moisturizing Lip Balm in Lime Twist
Large nail file with Nail Files logo
La Roche-Posay Ultra light Sunscreen
1 Pair of Purple Glitter heart Snap clips made by Me
Cherry Blossom Purse Notebook
*OPI Nail Lacquer Nail polish in Silver
*E.L.F Brightening Eyeliner in Black
Small Kawaii Memo pad set
Kawaii Skull Scrabble Tile Pendant made by Me
1 Heart shaped Key chain carved from wood that says 'Joy'
1 Reusable Polka dot Bag
TOTAL WORTH: $75+
SORRY But This giveaway is for USA ONLY I can only Afford to send this package to Non -USA Residents,Unless Participant agrees to partial pay shipping.
GIVEAWAY HAS NOW ENDED WINNER IS
- #278 xArtisticxPandax