I wanted to start off today by letting everyone know I added a New Wadget to my blog,You can now sign up to receive updates of when New giveaways are posted located on the right hand side of my blog.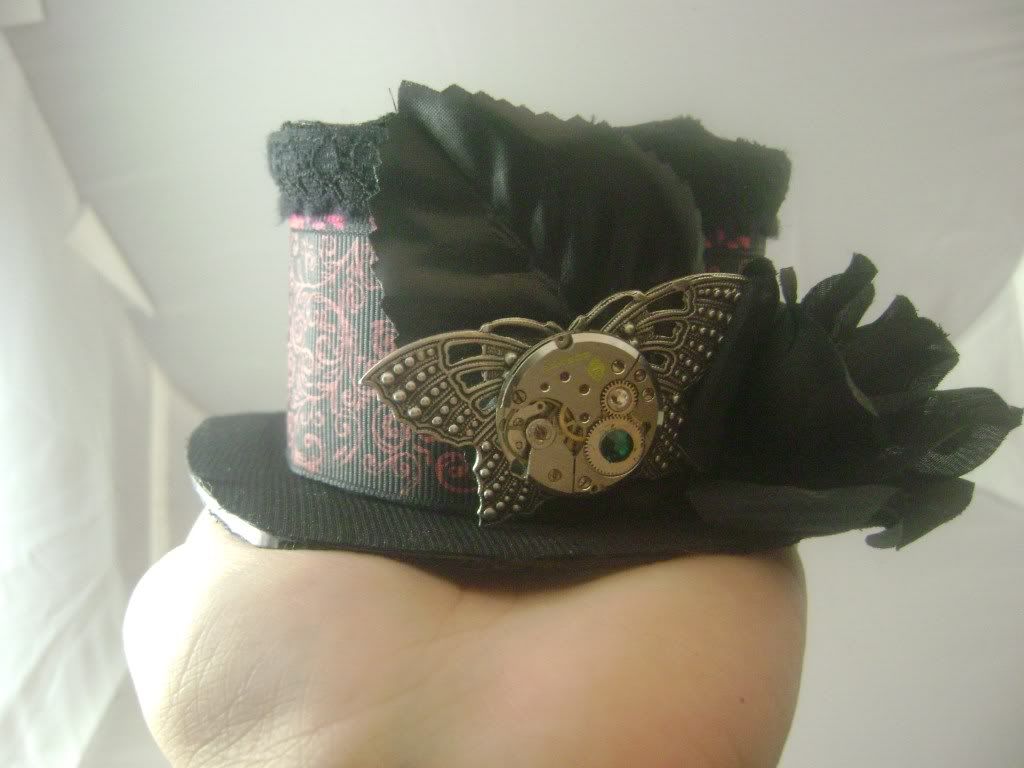 I also wanted to know your Opinions! For an upcoming Alice in Wonderland party I decided to make a Mini top hat to go with a Female Mad Hatter outfit,I am not the best with fabric so I wasn't sure how it would turn out but after showing it off & having people ask where i bought it/Where they could buy one I have been thinking I might sell different Mini top hats in my
Etsy
shop
Burning Moon
.
But I wanted to know
YOUR
opinions first! Tell me what you think, This mini top hat started off in pieces after construction the base of the top hat I covered it in plain black fabric then adorned it with Red & black swirl ribbon,Hot pink swirl ribbon with black lace over it to make the pink just 'Peak a boo' out,Finally I added a black rose,a black leaf & a Steam punk butterfly.To make it sit on my head/the person who wears it I added some small ribbon inside & attached it to a small black metal head band which can be removed & transferred if need,put in with bobby pins,or attached to clips/hair comb.For my shop I would make a variety of Mini top hats for people to buy for wear,or costumes they can be held in your hand perfectly.
Please let me know what you would think of Mini top hats,If you like this top hat,If you would buy a top hat for any reason,or If you know someone who would.
Also new at
Burning Moon
, I have new earrings,Bobby pins & Necklaces for you to check out please stop by & have a look.Thank You