Attention ladies! There is a fabulous new reality TV show on the
TV guide network
which I am sure you will adore after the first instance you watch it the show is called
Nail FILES
,What is Nail FILES about? Well it features the wonderful & beautiful Katie Cazorla.The show is about Katie's new nail salon located in L.A called "
The Painted Nail
" and how she struggles to juggles her salon,Her growing personal brand & her personal life which includes making time for her girl friends,& her relationship with Walter Afanasieff a music producer.You can catch the show on Tuesday nights at 10/9c on the
TV Guide Network
it is sure to bring you entertainment & laughs so make sure to plan time to sit down & watch it Katie has a very strong & bubbly personality.
Katie Cazorla has been traveling around on a small Mobile Tour in a Mobile Spa truck which is a small replica of her shop in L.A some of her stops have included Charlotte, Washington DC, Boston, Philadelphia,Cleveland,Los Angeles, Las Vegas, Phoenix, and the grand finale in Houston,Texas this upcoming July 4th weekend.On this tour Katie & a small team of nail specialists will be giving away FREE manicures,They will also be giving away free goodies such as nail files,nail decals & other fun prizes through out the day.The Mobile spa is decked out with gorgeous chandeliers,Comfy & Puffy chairs,plus a 42 inch TV.Today & tomorrow Katie is in Phoenix,Arizona & I had the amazing chance to sit down with Katie to do a small interview for my blog Burning Moon's Inside Advice.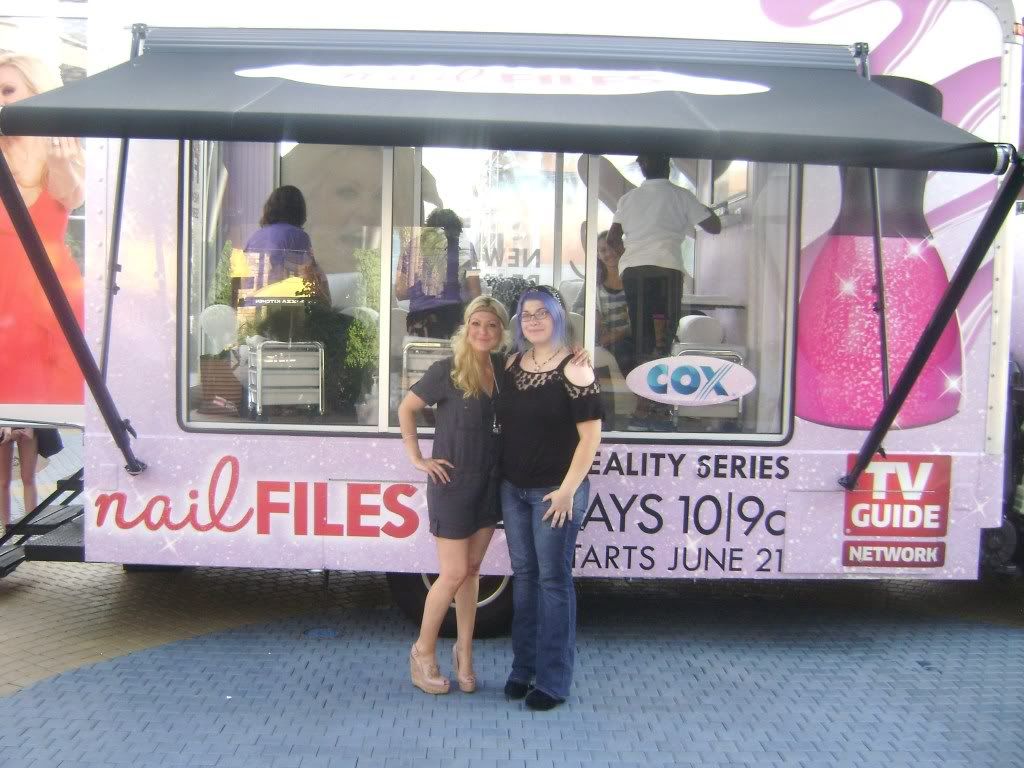 Katie & Myself in-front of the Mobile Spa Truck

Now I can honestly tell you I was extremely nervous on my way to meet Katie,This was my first face to face interview,Though I have to say as soon as I meet Katie everything melted away she is so cheerful,Happy,Funny & fun to be around she could make any day a cheerful day.After learning a lot of new & fun things about Katie along with seeing many photos of her nail designs I wanted to know which style or pattern is her favorite to do/work with,Katie's answer was anything with Glitter! She is a huge lover of glitter,a large amount of her nail polish from her Nail line "The painted Nail" has glitter & makes your nails look amazing I got to experience & see many cute nails today while visiting her Mobile Spa,Each girl or woman who stepped out of the truck was beyond excited about their new nails & their experience on the truck.One of my favorite styles she can do is add an image to your nail,Do you love Edward Cullen? Well then you can have his face placed onto your nails,you can have an image of anyone or anything on your nails.Now if your anything like me you might be curious how she gets the image onto a finger nail so I asked her, Her response was that she uses a Nail Printer which allows her to make a small digital image based off what you are wanting & apply it to your nail,After learning about it I now hope to one day get this done to my own nails.I was very excited because Lucky little me got to get my own Manicure done on the Spa truck & Katie herself picked out how to paint my nails,I received A silver based coat on all of my nails & then I received Katie Sparkles as a top layer on all of my fingers except my ring finger,My ring finger received a coat of 'Riot' over the silver which turned out perfectly.The nail polish applied smoothly & evenly,I was happy to see that unlike most glitter polishes you actually get Glitter with every brush stroke,I had made the comment that is was like getting smacked in the face with glitter,my nails are super shinny I love them & everyone at my work is jealous,You can see the results of my nails at the end of this post.
Katie was super talkative & is really excited that her shop & her Nail polish line are taking off! I asked Katie if she had any tips or advice for those trying to set up their own business what ever it may be,Katie's response was "Read as many 'Start you own business' books as you can even if they aren't tailored to your business,Take time to talk with other small business owners to help understand how to make your business work & do a lot of research which will in turn help you with your new business".What was Katie's favorite stop on her Mobile tour? All of them she has enjoyed different aspects of every town or city she has visited,I hope she continues doing these small tours because they are fantastic & helps her fans keep connected with her.There is much more wonderful things to say about Katie but not enough blog space to post it all in one post,so I will end this long post off here.If you would like to Fan Katie & The Painted nail on
facebook
you can do so by clicking
HERE
,you can also follow her on
Twitter
or stop by her store to buy some of her nail polish by visiting
The Painted Nail
.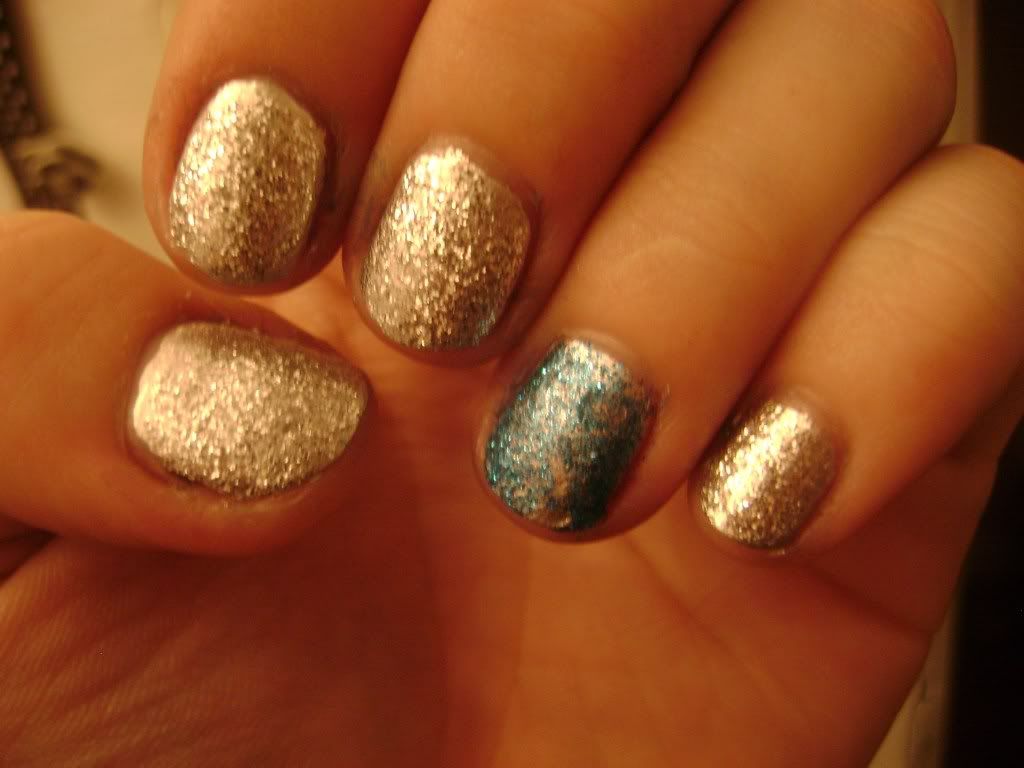 Left: My nails Middle: The Spa Truck Right: A fans Nails [Nails were done by a member of Katie's Team]
I would like to thank Katie Cazorla star of
Nail FILES
for the wonderful time & a Big thank you to
TV Guide Network
&
Allied Integrated Marketing
for allowing me this opportunity.