With Easter just around the corner I have been looking for creative ideas as what to put in my Daughters Easter basket & Easter eggs [She is only two] I do not want to give her a ton of junk food so I bought small things like cars,& jewelry for her Eggs & then toys & movies for her basket. I also wanted something next to her basket that is where
Pillow Pets
came in.
I received the lucky chance to review their Easter
Pillow Pet
called Fluffy Bunny,I was excited when the bunny arrived I wanted to see what he looked like so I opened it up to take a peak then put him on the shelf in my closet without thinking. We normally leave our closet door open [Slide doors] but I didn't really think anything of it because my two year old daughter hardly ever goes in our room but needless to say a few days later she went in to help me wake up her father & next thing I know she is pointing at the closet asking 'Whats that?' she already found it & she was too cute not to give into so she got her
Fluffy Bunny
early.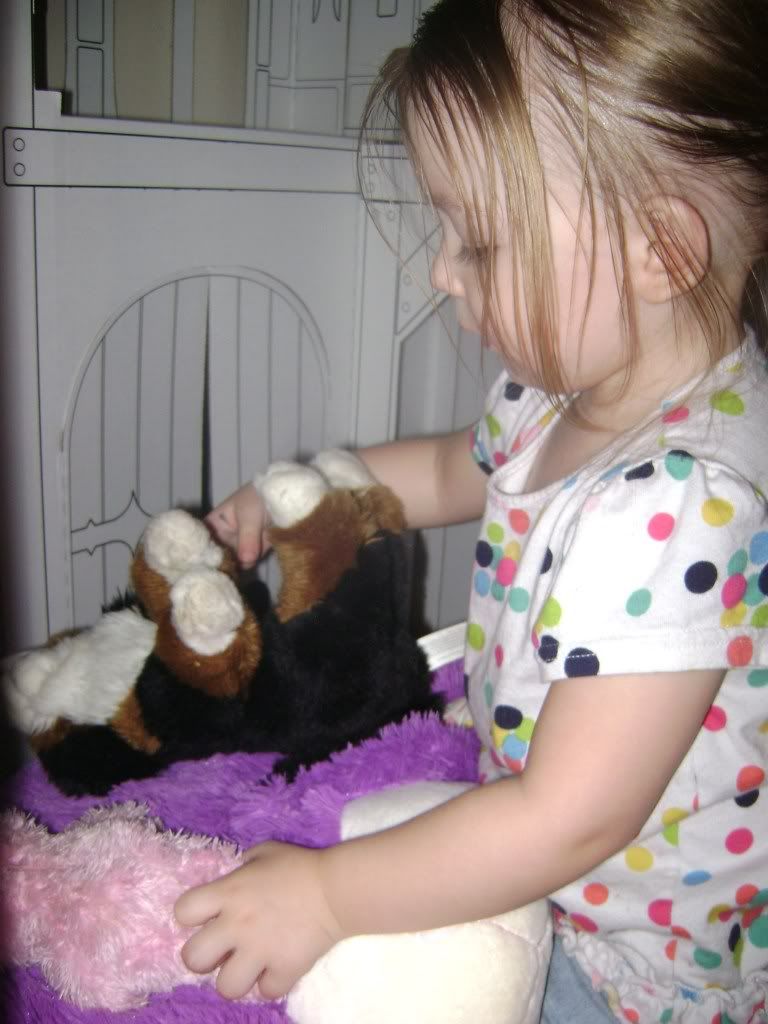 Needless to say she LOVES her
Fluffy Bunny
& he is a happy new addition to her pillow pets collection.I love & have always loved how soft the
Pillow Pets
are everything from head to toe is soft as can be which makes Pillow Pets a great gift for any age.The ears are large & floppy which every bunnies ears should be,Since the bunny can be taken in the car,Carried around or taken to bed with whom ever owns the bunny it makes the perfect pillow companion.
Have any Bunnies fake or real you plan on surprising your kids with on Easter? Though the giveaway will not end in time for Easter a very special child will be happy to get a
Fluffy Bunny
any day of the week.****This was not a paid post and my honest opinion was used. The opinions are solely my own and may vary from others.Products were Provided by
Pillow Pets
for the Review & Giveaway free of charge****
PRIZE ALERT:
One lucky winner will receive a
Fluffy Bunny
of their Own!
HOW TO WIN:
RULES :
To be eligible for this giveaway contest you MUST do the MANDATORY entry below. You only need 1 Mandatory entry to enter, but you could also have Additional entries to maximize your chances, please remember to leave each entry in a separate comment box or it won't be counted).Please remember to leave your email so that I am able to contact you if you win.You do not have to be a blog follower but I would love if you would become one it will help you keep updated on All of my giveaways.
MANDATORY ENTRY:
Please take a look at the
Fluffy Bunny HERE
& let me know in a comment who You would give a Fluffy Bunny too [& Yes you can say yourself]
ADDITIONAL ENTRIES:
*Fan Pillow Pets on
Facebook
- 1 Entry
*Follow Pillow Pets on
Twitter
-1 Entry
*Be a blog follower -3 Entries
*Follow me on
Twitter
-1 Entry
*Add my blog button to your blog -3 Entries
*Blog about this on your blog - 3 Entries
*Comment on ANY of the Reviews from the past week -2 Entries each
*Tweet about this giveaway [Include @Burningmoonprod] -1 Entry Per day
*Post Why you want to win -1 Entry
*Post about this giveaway on your Facebook -1 Entry
*Enter one of my other giveaways -3 Entries Each
This giveaway will end on April 29th,2011.Winner will be picked using a Random Number Generator.