I know that you are ready for Today's giveaway now! I have a special giveaway that is fun for the whole family,It is always important to spend as much time with your family as you can No matter how many friends you have that come & go your family will always be there for you through thick & thin.What is a better way of spending time together then Game Nights?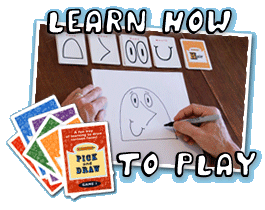 I recently had an opportunity to work with a company call
Pick & Draw
,I was recently sent a series one
Pick & Draw
.
Pick & Draw
is a fun, one-of-a-kind drawing game that teaches you how to make very creative cartoon faces,There are 60,000 different possibilities in the game (a deck of cards).The game uses mainly simple shapes everyone already knows how to do thereby giving confidence to those who try It is simple and easy to use providing endless hours of fun and learning. In five minutes or less you will know how to play.The game suggest that you should use a Piece of paper & a Pencil with an eraser but I think that is a Waste of paper & bad for the environment so we use Medium sized White boards I found at the dollar store.The game has separate piles of cards that you choose from for your character you pick one card from each stack which will create your face,The game comes with easy instructions that are simple to follow.The game also comes with a sheet that gives you small tips for how to make your
pick & draw
experience more fun including Three small questions to answer for each of the characters you draw including 'What is His/Her Name?" that way not only are you drawing a character but your making their personality & story as well.I think this game is the perfect way to inspire young kids to use their Imagination.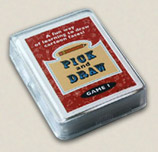 PRIZE ALERT:
One lucky winner will Win their own
Pick & Draw
game [Series One]
GIVEAWAY HAS NOW ENDED