The start to my new year has been wonderful I have a lot to be thankful for & a Lot to celebrate for I have a Loving family,Amazing Husband,Gorgeous daughter,& My amazing cat to be thankful for.For celebration we are about to move into a larger house,I have a fantastic new job that I enjoy,I have been keeping up with my blog even with all the chaos going on & January 28th[Tomorrow] is my Two year anniversary of the Opening of my
Etsy store
I am a few sales Shy of what my Goal was before I hit that date but I have faith that I can reach it soon, so to celebrate I have put together a Fantastic GIVEAWAY for you here on my blog.I have put together a
Small Flat Rate package with lots of Goodies
,What are the Prizes?
[Not A prize for this giveaway just an image from my
shop
]
The Prizes are as Follows:
Fing'rs Flirt Nail & Body Jewels,Nature Crops Quinoa & Prunes Nutrition bar,Nature Crops Quinoa & Strawberries Nutrition bar,Beecology Relaxing Lavender with Honey Soap [5oz bar],Suuthe Skin Repair Sample,Coupons for Various products including coupons for FREE products,Two Udderly Smooth udder cream samples,Suuthe Lip Balm,Beecology Buzz Balm Soothing & Healing Lip Balm,A Pocket Mirror,A Sweetsation Organic Triple Action Moisturizer SPF 50+ Sample,Ivory eyeshadow by Lumiere,Prismatic Blue eyeshadow by Lumiere,Transpose eyeshadow by Red Revolt Cosmetics,A butterfly Scrabble Pendant made by Me,A Pack of Trident Gum[Watermelon Twist],Innocent Morn mineral blush by Abbey St. Clare,Donna Michelle Hydrating cuticle Cream,Two handmade Greeting cards made by me,& a Tea light candle holder set Made by me [Green with Polka dots].
TOTAL VALUE
Equals about
$75
Other small goodies will be included over the time the Giveaway runs some will be added to the list here so be sure to check for updates.This giveaway has been put together using both Sample items & Full sized items from Sponsor posts that I put aside just for this giveaway & items that I myself have bought with my own cash.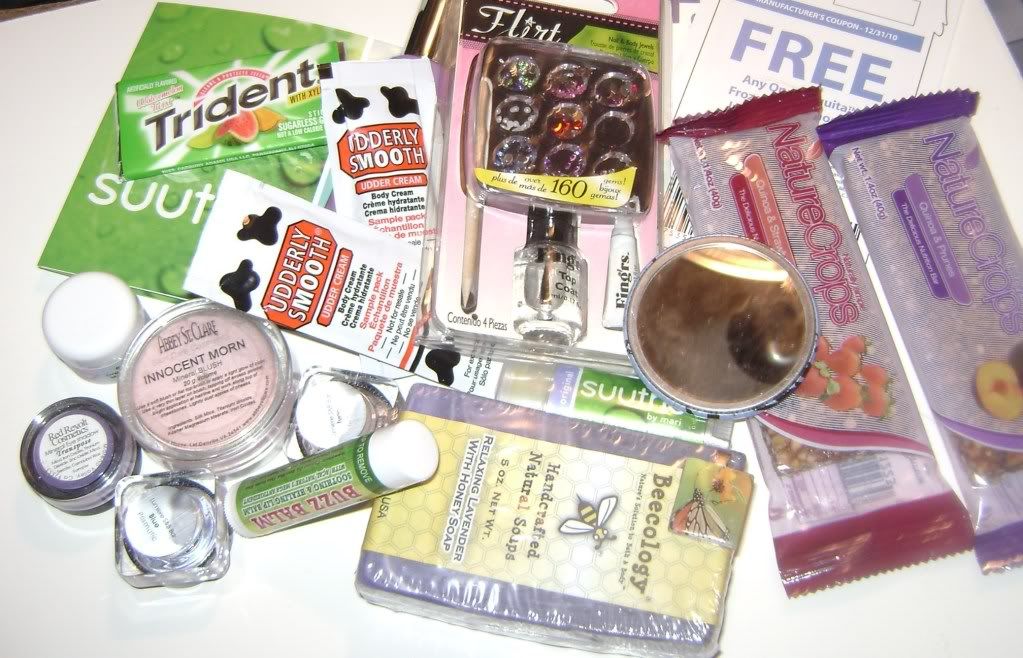 Note:
Not all the prizes are shown above,Sorry for the poor quality photo my camera isn't what it used to be.
BONUS:
Want to make a Purchase from
Burning Moon
? Use Code StarShine10 to get 10% OFF any item from
Burning Moon
[Chain Maille Not included] can even be used on Sales items & Custom items.
HOW TO WIN:
RULES :
To be eligible for this giveaway contest you MUST do the MANDATORY entry below. You only need 1 Mandatory entry to enter, but you could also have Additional entries to maximize your chances, please remember to leave each entry in a separate comment box or it won't be counted).Please remember to leave your email so that I am able to contact you if you win.You do not have to be a blog follower but I would love if you would become one it will help you keep updated on All of my giveaways.
SORRY THIS GIVEAWAY IS FOR US RESIDENTS ONLY
[I am sorry but I am paying for this out of pocket & can't afford to ship outside of the US.I will have another giveaway soon that is open Internationally,Thank You.]
MANDATORY ENTRY:
Visit
Burning Moon
& Let me know what your favorite item is.
ADDITIONAL ENTRIES:
*Be a blog follower -3 Entries
*Follow me on
Twitter
-1 Entry
*Add my blog button to your blog -3 Entries
*Blog about this on your blog - 3 Entries
*BUY an Item from
Burning Moon
- 20 Entries
*Comment on ANY of the Reviews from the past week -2 Entries each
*Tweet about this giveaway [Include @Burningmoonprod] -1 Entry Per day
*Tweet about
The Burning Moon Store
-1 Entry per day
*Post Why you want to win -1 Entry
*Post which item from this giveaway you would like to Win the most -1 Entry
*Post something you are Grateful for - 1 Entry
*Post about this giveaway on your Facebook -1 Entry
*Enter one of my other giveaways -3 Entries Each
This giveaway will end on February 26th,2011.Winner will be picked using a Random Number Generator.