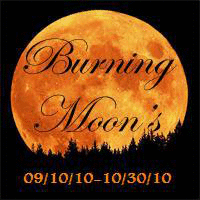 Halloween is just days away but that doesn't mean that you can't still Collect Halloween decorations for next year or if your anything like me I keep mine up all year long my home is decorated with Skulls,Dragons,Fairys,ect My DH & I are both Metal heads & love the world of Magic/Mystical creatures so our home is to our likings.
I recently had a wonderful chance to work with a company called
Swirly Designs Ornaments
who creates very beautiful pieces of art work.For my review I was sent a Spooky House [Seen Above],The piece is amazing there is so much detail in this tiny piece of art,The house has two bats,a Ghost in a window with the shutters open,& a Pumpkin there is glitter randomly assorted on the ornament,Even the sides are very detailed the sides of the bottom of the house have a black & white pattern.On the back of the ornament is a small decorated circle that says 'Boo!" & has two bats it is darling.The ornament already comes pre strung on an Orange mesh ribbon which compliments the house beautifully I am weird so I will be hanging this on my Christmas tree this year it will fit in perfectly [Night mare before Christmas Ornaments,Dragons,ect].They also have ornaments for other holidays such as Christmas so if your looking for Unique home decor or tree ornaments this is your place to shop.****This was not a paid post and my honest opinion was used. The opinions are solely my own and may vary from others.Products were Provided by
Swirly Designs Ornaments
for the Review & Giveaway****
PRIZE ALERT:
One lucky winner will be winning the Mummy head.The eyes & mouth are very detailed.
GIVEAWAY HAS NOW ENDED WINNER IS - #154 Tj and Amy