I am very excited to share today's Review & Giveaway with you as it is a post I have been waiting for.As many of you remember I hosted a giveaway & posted a Review on some wonderful childrens Stuffed Animals/Book sets called
Worry Woo's
which are a fun alternative to your everyday Bear & Dog stuffed animals.I am very happy to announce the New arrival in the Worry Woo family a fun & cute little monster named Fuddle. Each monster in the Worry Woo collection has a book that is all about that specific monster,& the problem they have every monster has a fear or an emotion that they over come through out the book not only is it fun for kids to read but helps them learn as well.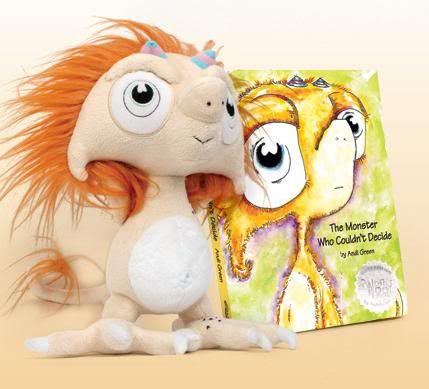 Fuddle is the Monster of Confusion she can never make up her mind which always leaves her sad & wandering around but in the end everything turns out. . Well you will just have to read it to find out no need to ruin a great story.I love all of the books in this series because they have wonderful water color pages,great stories,adorable characters & matching stuffed animals.I think Fuddle has been my favorite of all because she is so cute,my DH thinks she looks evil but that is only because of her eye brows I think she is perfect the way she is.The
Worry Woos
inspire creativity in children & help them branch out specially though teaching them how to overcome certain emotions like shyness,confusion,& More.I enjoyed working with the company & Love the work the author does I look forward to seeing more of their work available later this year,So keep your eye out for more!****This was not a paid post and my honest opinion was used. The opinions are solely my own and may vary from others.Products were Provided by
Worry Woo
for the Review & Giveaway****
PRIZE ALERT:
Worry Woo's
has agreed to give one lucky Burning Moon's Inside Advice follower a Fuddle monster & book of their own.
GIVEAWAY IS NOW OVER Worry Woo Winner -#68 Claude