The giveaway I hosted last month for a goodie bag with over $60 in goodies [including Makeup,Jewelry,Candy,& More] was such a Huge hit that I am going to try hosting One a month which will run through out that month.Last month we had an amazing 1300+ Entries into the giveaway & because of this I have added more into this months goodie bag with extra surprises in the bag for last month & the Goodie bag I am about to giveaway, What do I have in store for you this time? Well you will have to wait & see.As many of you Know many of the items in this bag are some of My favorites from companies I enjoy or just plain Love I wouldn't put anything in the goodie bag that I myself wouldn't like,It also includes an item or two that I have made & sell in my online store Burning Moon.Each month I will try to provide a chance to win a similar goodie bag,There will Never be the same items in the goodie bag.
The WINNER of last months goodie bag
giveaway Is *drunk roll* :
#771 Polly
Congratulations!
I will contact you within the next 72 hours about your prize
. Always remember if you didn't win this time don't give Up I have tons of giveaways currently up for you to enter & have a shot at winning.To see a list of all my Current Giveaways please click on 'Giveaways' on the right hand side of my blog,or Simply
Click Here
.Thank You
I enjoyed reading all of your comments & opinions on the giveaway as well as my blog & store I also look forward to hearing them this time as well & hope that you enjoy the prizes that I have in store for you just as much as the last goodie bag.I always love bringing you great products to read about & test out as well as giving you the chance to win amazing prizes I am always glad to hear from my happy winners & my amazing blog followers [You!] like I always say my blog wouldn't be what it is today without all of you.My blog has grown in followers since the last giveaway but please don't let that scare you away from entering even if you don't win this month there will always be another chance next month plus I try posting a giveaway once a day so there is always something fun to win!!! Please keep in mind while looking at the photos of the Prize(s) my camera is very old so it doesn't work as well as it used to so the picture might be too bright,a little blurry,ect but I always try to provide you with the best photos that I can. Remember the more Entries you have the more chances you have to win,using the Daily tweet option you can have up to two Entries daily [Plus the other entries you choose to do as well],Giveaways mean a lot to me because its my way of showing all of you how much you mean to my blog I like rewarding my readers with giveaways,Reviews are also important to me so they will be a main way to enter this giveaway! Now the part you are all waiting for,Whats in the Bag? Below is the list of prizes & links to the review(s)/giveaways I did for those companies,Keep in mind not all of them are reviews I have done some are store bought items I like so I bought extra,some are reviews coming soon so you get a small Sneak Peak!
The Goodie Bag: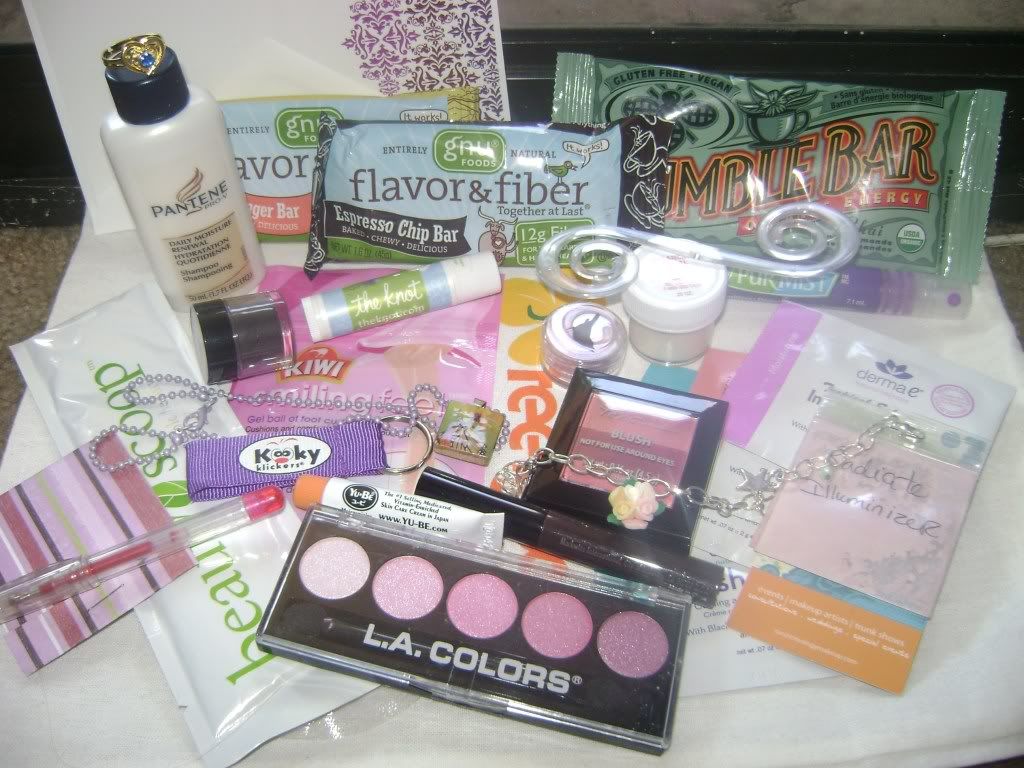 The Charm bracelet & Pendant necklace you will get (Up close image):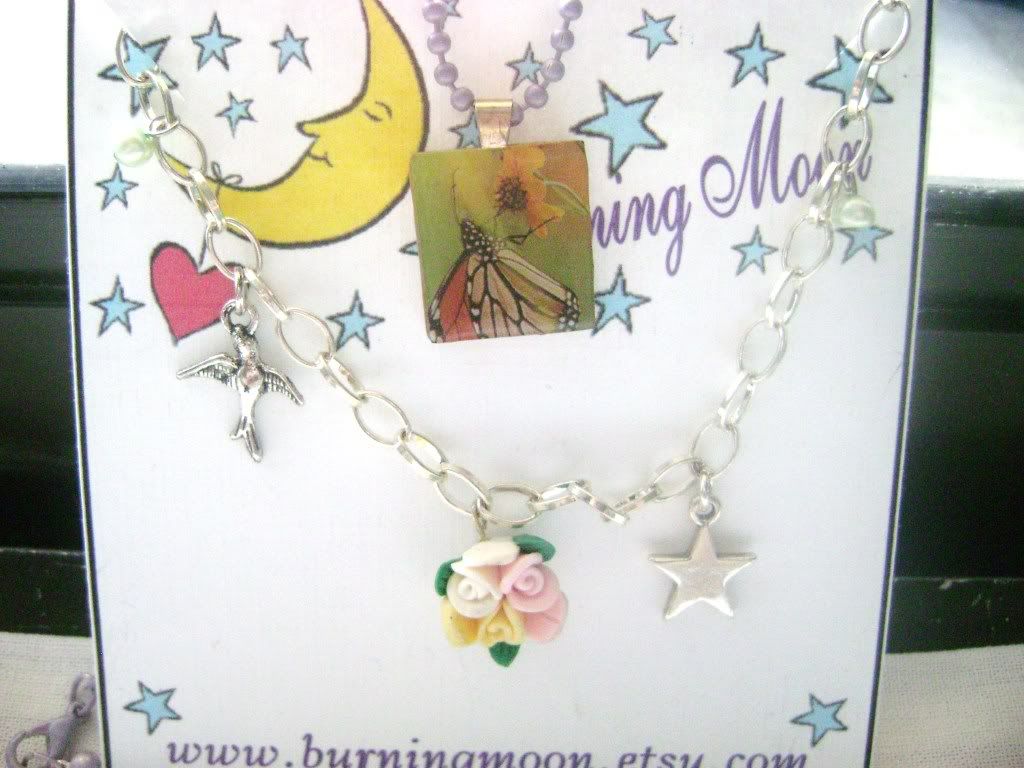 The PRIZES in the Bag are:
A hand made Charm bracelet created by
Burning Moon
[Me! Its a $20 Value]
A Butterfly Scrabble Tile Pendant created by
Burning Moon
[Me!]
1 Brown Mascara from TCW
1 Thing of blush [Has 3 colors] from TCW
1 Stick of chap stick [Store bought]
1 Five shade Pink NYC eye shadow
2 Mineral eye shadow samples from
Miology
1 Jar of Lotus Blush by Alima Pure ~
1 Jar of Raven eyeshadow by
YoungBlood
1 small .1 OZ Mosturizing skin cream from
Yu-Be
A small red gel pen
A small Purple stripped note pad
A small Trial bottle of Pantene Pro-V daily moisture shampoo
1 Sample of
Beauty Scoop
Balancing Facial Lotion from
Lilly Organics
4 samples of skin care creams by
DermaE
2 Gnu food bars by
Gnu
1 energy Bar -Chai with Almonds by
Bumble Bar

1 Clear Medium
BraBarette
1 Reusable Bag by Feelzgood ~
1 Key FOB by Kooky Clickers
1 Smiling Feet gel ball of foot cushions by
Kiwi Shoe Care
1 Pocket sized Spray hand Sanitizer[Calming Lavender] by Purmist ~
1 Pear Tree blank Greeting Card by Pear Tree ~
August Goodie Bag Winner - #1127 BCMama2010