Yesterday was the first time it has rained in quite some time there was about ten minutes of rain but just enough to create some puddles,My daughter has never really been in the rain there was once or two when I had her completely covered to run out to the car but that was it so I threw on a jacket & her rain boots & we went outside to play she had a blast I am glad I have a pair of Rain boots for her from Kidorable.From the pictures I took of her I can just tell how long her hair has been getting.This is my daughter looking at her Reflection in a puddle: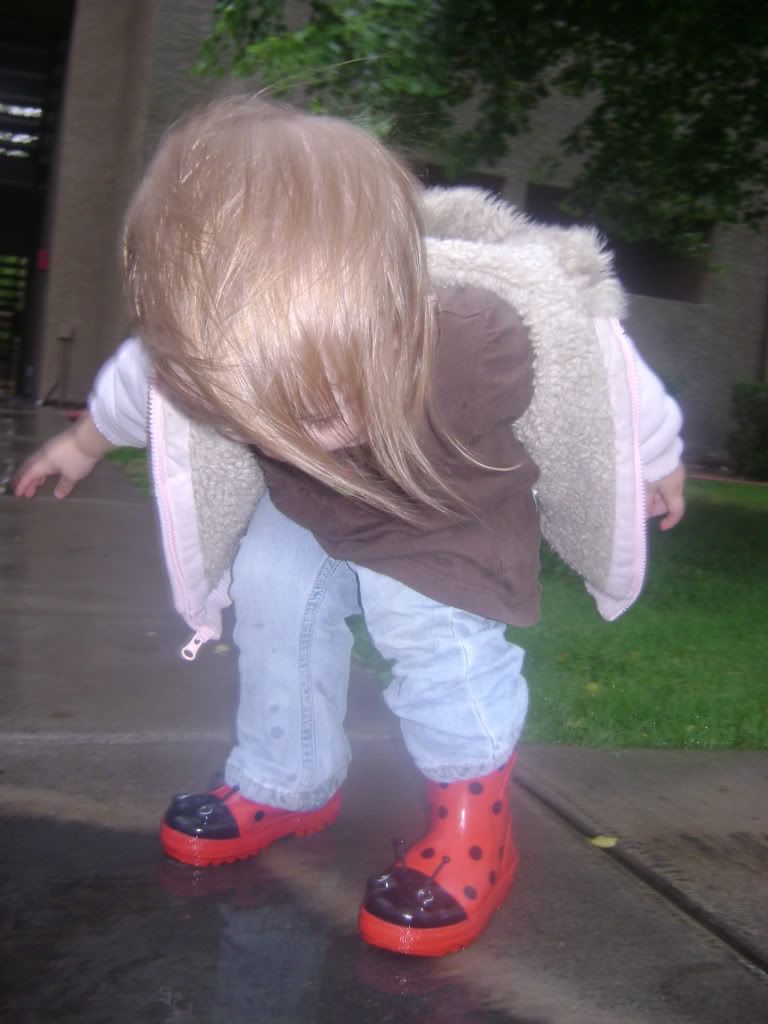 Since I wanted to share about yesterday why not post a review & giveaway that involves water? One of the things that is most valuable that can be found in the sea are Pearls,For years women have been wearing pearl bracelets,earrings & necklaces which doesn't seem to be a slowing fashion you may not see them as often you might see faux pearls frequently but there are still many who love wearing or having pearls.I recently received an amazing chance to work with a company called
Pure Pearls
on a Review & A Giveaway.For my review I received a Freshwater pearl bracelets in black,The bracelet arrived much faster than I had expected it to it actually surprised me when I opened it & saw what it was.The bracelet is very well put together at first I wasn't 100% sure how much I would like the clasp they have attached to the bracelet but it is surprisingly easy to get on by myself without having to ask anyone for help & the clasp has small holes so you can adjust the length of your bracelet a little.I love the colors of the pearls its not a plain dull black & its not shiny it is treated so it is Tantalizing shades of iridescent copper, blue, purple, green and more it is more dramatic and a pleasure to wear. Each strand of 7.0-8.0mm treated black freshwater pearls is hand-selected for their superior shapes and bright luster. Each bracelet measures a standard 7.5-inches, but can be customized to fit any wrist.Each bracelet comes in a gorgeous black satin lined bracelet box which I thought was neat besides my class ring none of my jewelry has ever come in a snap shut box they are usually cardboard [Card stock I am not sure what jewelry boxes are made from].The company was very friendly & easy to work with they have great customer service & great prices each piece comes with a price appraisal.**This was not a paid post and my honest opinion was used. The opinions are solely my own and may vary from others.Products were Provided by
Pure Pearls
for the Review & Giveaway**
PRIZE ALERT:
One Lucky Winner will win EITHER A
pearl bracelet
or a pair of
earrings
your choice.Your choices ARE: 7.0-8.0mm, AA+ Quality Freshwater pearl bracelets in natural pink, lavender or white colors,Or treated black pearls, or your choice of Freshwater pearl stud earrings in any size [Excluding 8-9mm, 9-10mm or 10-11mm].
I am sorry but this is for US residents Only!
GIVEAWAY HAS NOW ENDED WINNER IS #165 Ladytink_534