UPDATE
7/21/2010 The giveaway has reached over 650 Entries so far so BONUS goodies have been added to the bag,What are they? Its a surprise.
I have had an Urge lately to put up a giveaway that I have personally put together with some of my favorite things! I hope that you will enjoy this contest as much as I have enjoyed putting this together for one of you to win & I hope to make more giveaways like this in the future Not only do you get to a chance to win some neat Free stuff but you also get to know the writer of this blog a little better (Me =] ),& I have to admit now that my DH helped me put this giveaway together as well with helping me decide what was the best items to place in my Hand picked goodie bag giveaway.
The goodie bag I am giving away has some items that are Hand picked from some of my personal favorite reviews I've done,some random items I thought you would like & some favorites of mine that I haven't blogged about.The goodie bag I will be giving away is worth over $60!! All items are brand new & have never been used.I was very excited when putting this together now the big day is finally here & I get to reveal my giveaway to you I hope that your all just as excited to enter as I was putting this together,Originally this giveaway was slightly smaller but my DH had me put more items in to make it as amazing as It turned out today so he is to thank as well.I tried photographing the prize(s) as best as my camera will let me [Its old & doesn't work as well anymore],Below the pictures of what you will be winning I have included a list of What you will be winning & a link to either the review I did for that company or to the site where the item can be found.I have also include a lot of ways to gain extra Entries info the giveaway so that you will have more chances to win!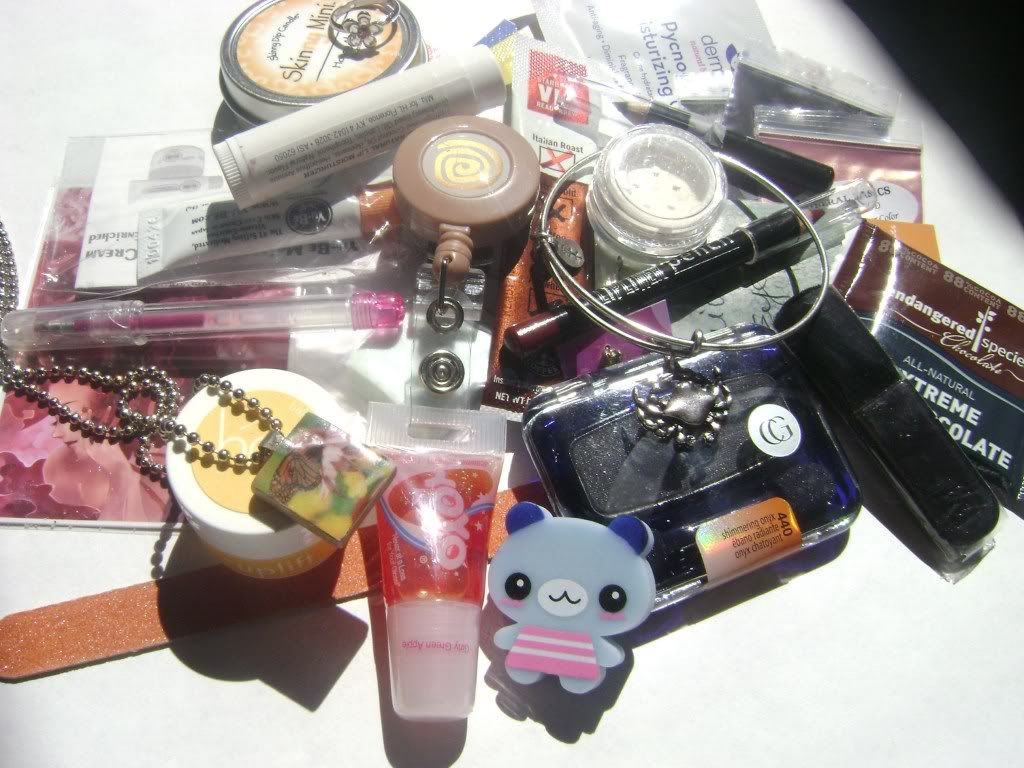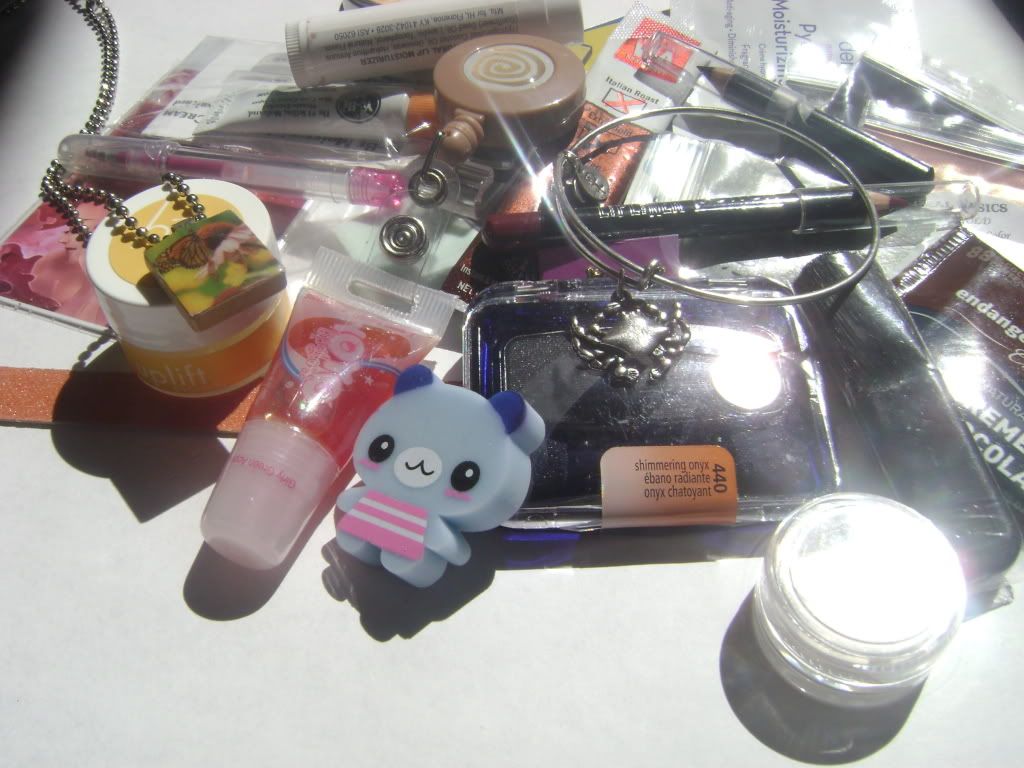 The PRIZES:
Here is what you will be winning:
A butterfly scrabble tile pendant necklace made by
Luna
(Me!)
A Crab Expandable Wire Bangle(Zodiac sign for June 21-July 22) From
Alex & Andi
5 Samples of face creams/washes from
DermaE
A Skinny Mini [Candle that is a Lotion/Massage oil] from
Skinny Dip Candles
3 Makeup samples from
Mineral basics
2 Makeup samples from
Mixology
A Shimmering Onyx eye shadow from Cover Girl
A Moonstone eye shadow from Orglamix
A small lip gloss[Girly green apple] with retractable lipgloss holder from Yoyo lipgloss
A mini travel size eye liner [Black] from
ELF
A Lipliner[Red] from L.A Colors
A nile file from
Misikko
A stick of chap stick [Store bought]
A small makeup brush from Cover Girl
1 Small Body butter [Uplift] from
Hello Mellow
1 Small 0.1oz Mosturizing Skin Cream from Yu-Be [Review coming soon]
A small 4 x 4 Photo art work from Schin loong
A girly pirate dog tag
A small sterling silver adjustable ring with a flower
A soap sample [Cool Water] from
Chocolate sample [.35 OZ bar] from
Endangered Species Chocolate
1 Pair of small Green gem stud earrings [Store bought]
1 Small red gel pen
1 Small note pad shaped like a Letter [You pick what letter you want]
1 Kawaii Bear Eraser [Blue Berry Scent]
1 Sample of Starbucks VIA ready brew Coffee - Italian Roast
*Note to save on shipping some items may be packaged outside of the Sachet bag to make the package flatter but you will still get everything mentioned above maybe even a surprise or two.
Prize Worth: $60+
& its open World Wide!!!
THIS GIVEAWAY IS NOW OVER THE WINNER IS #771 Polly

PLEASE ENTER THE AUGUST GOODIE BAG GIVEAWAY BY CLICKING HERE