I am very happy to bring you my very first review & giveaway for your Fur Babies (Cats possibly some dogs) I recently got the chance to do a review for
Frolicat
.For the review I received their BOLT here is a little information on it from their site "
FroliCat
™ BOLT™ is an interactive laser toy that provides hours of fun for you and your feline friends. Hold BOLT in your hand or place it on a flat surface and watch your cat pounce, chase and bat at the exciting laser patterns."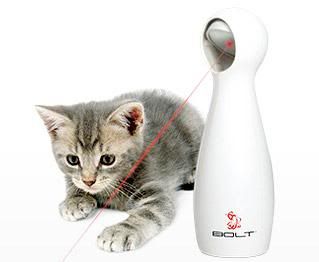 My Experience:
After reading mixed reviews about this product I decided to give it a try,When it arrived I was very happy to see that it came with batteries included which I loved because I always hate when you buy a new toy,or game that doesn't come with batteries & you just happen to be out of them yourself.The BOLT is a little bit too noisy for my tastes but you get used to the sound its not as big of a deal.The BOLT works wonderfully if you place it on a table or on the floor it will move around letting your cat chase after it to seem more life like it will stop her & there for a few seconds like a normal fly or bug would then it starts moving again the only thing I did note is that sometimes it moves up too high for a cat to reach unless they were to knock over some of your possessions to get there unfortunately enough we don't have very much in our dining room so that is where my cats 'area' is & that's why I set up the BOLT .I enjoy the speed that it moves because its not too fast that your cat can't see where it is & not slow enough that your cat doesn't have interest in it,You can also use the BOLT hand held which I enjoy as well because I can get a bigger area with the BOLT than just by placing it on the table.My toddler also enjoys watching my cat chase after it she gets lots of laughs from watching our black cat Pantera run all over the house.Many of our friends like it as well & want one for their own pets.I am sure you could use this product for a dog as well. **This was not a paid post and my honest opinion was used. The opinions are solely my own and may vary from others.Products were Provided by
FroliCat
for the Review & Giveaway**
PRIZE ALERT:
Frolicat
Has also agreed to give one lucky winner a BOLT of their own.
Sorry but US winners only to the 48 contiguous states.
GIVEAWAY IS NOW OVER WINNER IS - #38 kyla g