A lot of you have been requesting that I feature more things for children & post more giveaways for children so I have gone out & found a large handful of childrens posts to bring to you.Today's post is for children & for adults alike.
I am always on the look out for stuffed animals which aren't your normal girly stuffed animal or your typical stuffed bear/kitty I was very happy & excited when I came across
WorryWoo
Monsters & I was even more excited to get the chance to work on a review for them.When the box arrived my daughter helped open it(well as much as she could by tugging on the top with all her might) I was surprised at the size of the box because I though they were only going to send one but we were very happy they sent out Three for me & my daughter to review they each also came with a book the
WorryWoo's
we got were
Squeek
(My daughters favorite),
Nola
&
Rue
each is unique in its own way at first I thought Rue was a little goofy looking but after a little bit he grew on me now I think they are all adorable in their own way.I love the book that comes with each monster it tells you the story behind the monster that has now become yours or your child's friend each book has beautiful illustrations that look like they were done with watercolors,each story seems to rhyme which I found entertaining as well.I can't promise that the
WorryWoo's
themselves won't get messy since my daughter has been carrying them around with her where ever she goes & sleeps with them but the books I will be keeping up & away(Unless I am reading to her) until she is old enough to read them on her own.All of our friends who have been over since we got them & had a chance to see them through they were super adorable.My DH,DD & I like them so much we plan on getting their fourth
WorryWoo
later this year & then getting the last two
WorryWoo's
when they are released later this year.**This was not a paid post and my honest opinion was used. The opinions are solely my own and may vary from others.Products were Provided by
WorryWoo
for the review & Giveaway**
My very sleepy daughter with her new
WorryWoos
: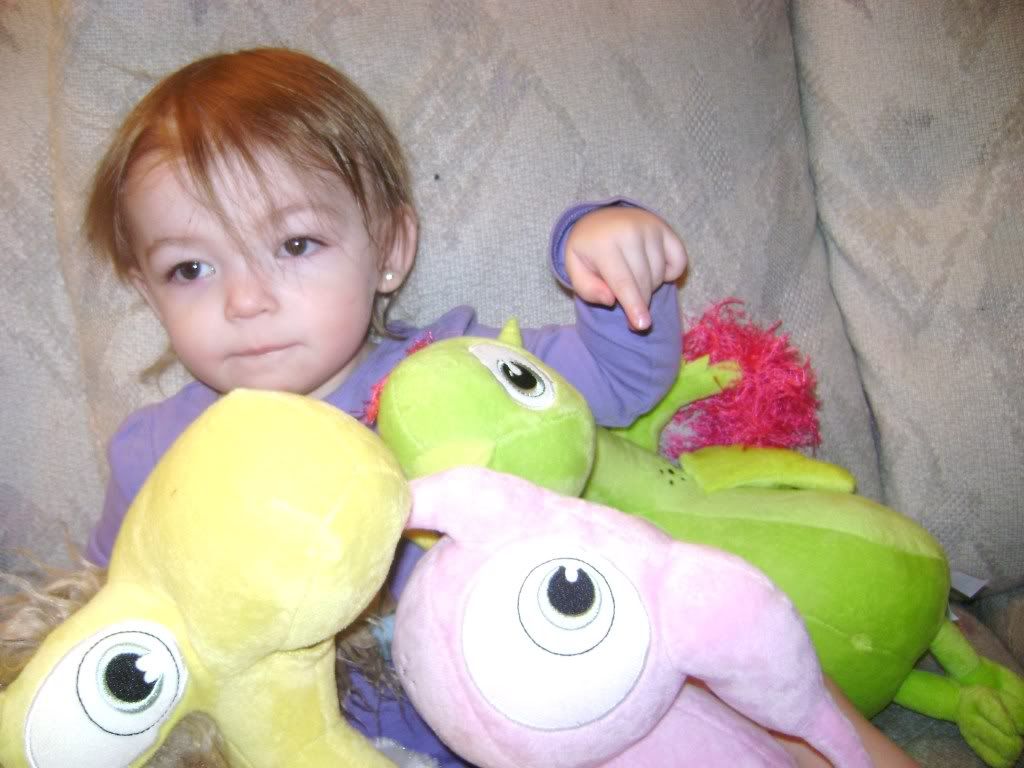 Prize Alert:
WorryWoo's
has generously agreed to Give one lucky winner their choice of Doll which comes with a book telling his/her story you can pick from any of the four they have up on their site.
GIVEAWAY HAS NOW ENDED WINNER IS anthy